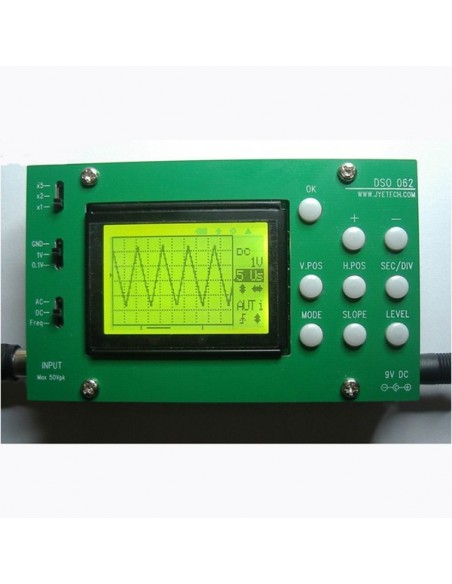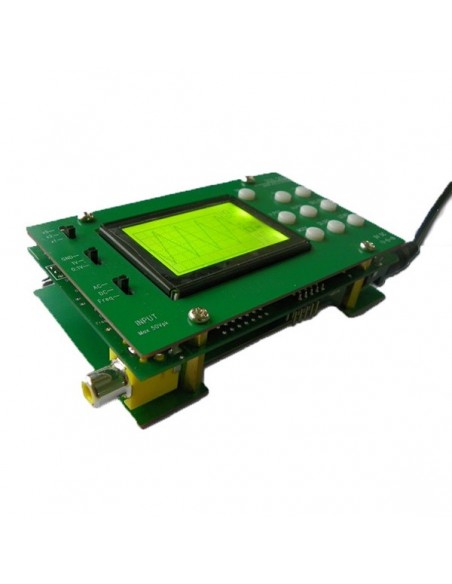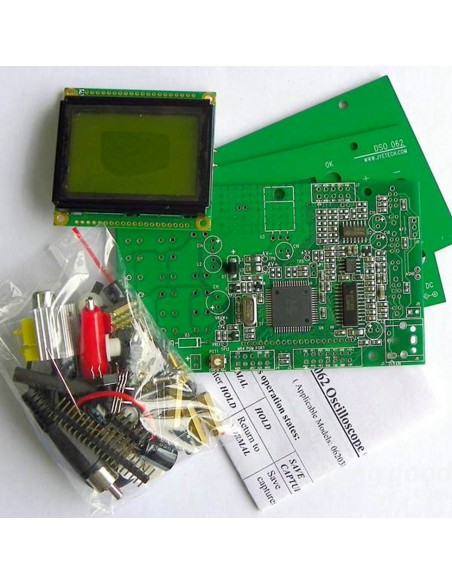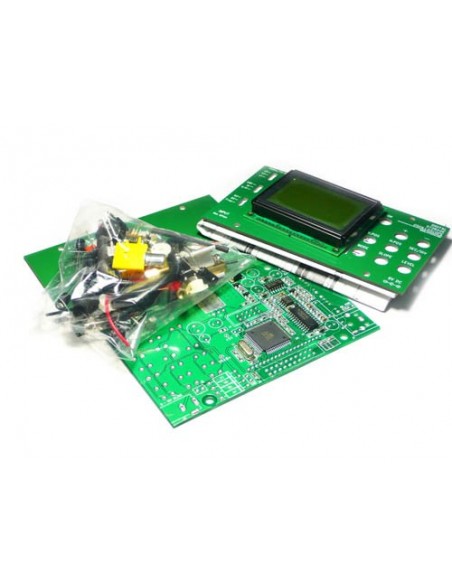 Digital oscillograph DSO062 DIY parts
This product is a starter DIY kit especially for electronic enthusiasts and students. It's simple and practical for use. 

Features:
Auto/Normal/Single trigger modes, convenient for instantaneous waveform capture.
Can choose internal/external trig source.
Rising/Falling edge trigger.
Can observe the waveform before triggering(negative delay).
Trigger output is available, which makes it possible to cascade scopes to do multi-channel capture.
Vertical Position Adjustable with indicator.
Trigger level adjustable with indicator.
Hold/run feature.
Save/recall up to 6 captures.
FFT function available: 256 points and 512 points selectable, sampling rate of 1Ksps to 2Msps selectable.
Transfer screen to PC as bitmap file via serial connection.
Built-in 500Hz/5Vpp test signal.
Frequency meter can measure frequency up to 5MHz.

Specifications:
Max. Equivalent-time Sampling Rate(Repetitive Signal): 20MSa/s
Max. Real-time Sampling Rate: 2Msps
Resolution: 8 bits
Record Length: 256 bytes
Analog Bandwidth: 1MHz
Vertical Sensitivity: 100mV/Div - 5V/Div
Input Impedance: 1M ohm
Max. Input Voltage: 50Vpk (1x probe) [500Vpk for 10x probe]
Coupling: DC / AC
Horizontal Time Base Range: 0.2us/Div - 10min/Div
PCB Board Size: 10.5 * 6.3cm / 4.13 * 2.48in (L * W)
PCB Board Weight(3pcs): 45g / 1.58oz
Screen Size: 4.3 * 3cm / 1.7 * 1.18in (L * W)
Screen Board Weight: 29g / 1.02oz
Package Size: 15 * 11 * 2.5cm / 5.9 * 4.33 * 0.98in
Package Weight: 150g / 5.29oz
8 other products in the same category: