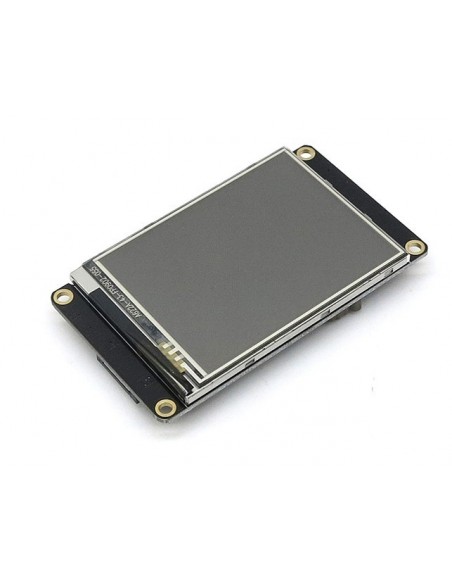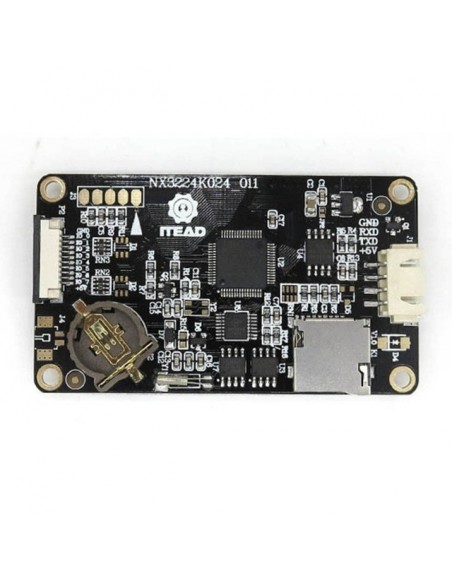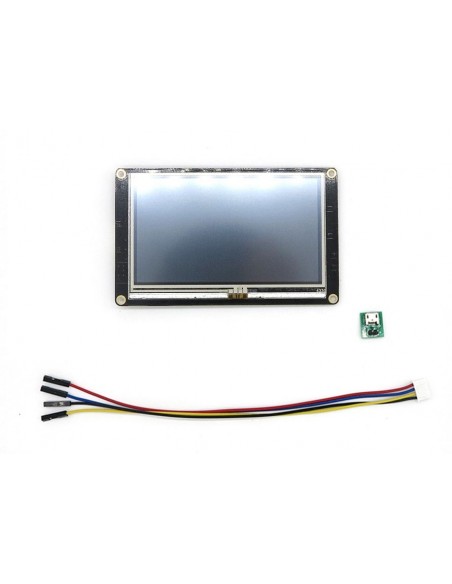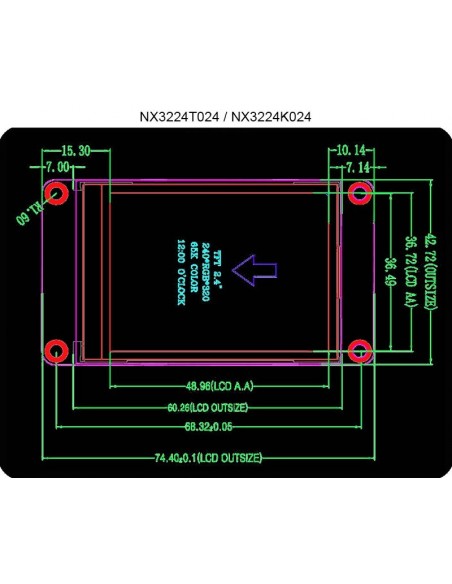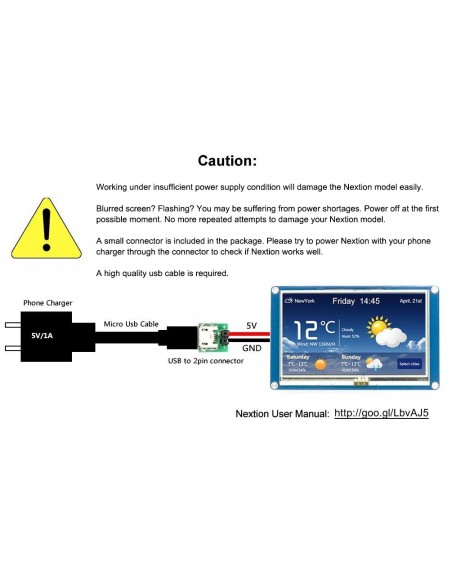 2.4" Nextion Enhanced HMI Display
Smart LCD display with touch screen (RTS, GPIO)
Description:
The Nextion Enhanced versions are more powerful. Compare to the basic Nextion displays, the new ones have added some new functions: support built-in RTC, support save data to Flash, support GPIO, larger flash capacity and faster CPU. The enhanced Nextion series has 7 size covers from generic 2.4'' to 7.0''.
Nextion Enhanced NX3224K024 is a powerful 2.4'' HMI TFT display, with 16MB Flash data storage space, 1024 byte EEPROM, 3584byte RAM. With GPIO supported, now you can use Nextion to control external devices.
Nextion is a Seamless Human Machine Interface (HMI) solution that provides a control and visualisation interface between a human and a process, machine, application or appliance. It is the best solution to replace the traditional LCD and LED Nixie tube.
Nextion includes hardware part (a series of TFT boards) and software part (the Nextion editor). The Nextion TFT board uses only one serial port to communicate. It lets you avoid the hassle of wiring. We notice that most engineers spend much time in application development but get unsatisfactory results. In this situation, Nextion editor has mass components such as button, text, progress bar, slider, instrument panel etc. to enrich your interface design. And the drag-and-drop function ensures that you spend less time in programming, which will reduce 99% of your development workloads. With the help of this WYSIWYG editor, designing a GUI is a piece of cake. It's easy to adapt Nextion family HMI to existing projects, you just need to provide it a UART.
Note: there's a small power supply test board and a wire for you to test if the electricity supply is enough or not. Please see below image how to use it.
Features:
Support built-in RTC
Support GPIO
SD Card interface: support max max 32G Micro TF/SD card (FAT32 file format)
Flash data storage space: 16MB
EEPROM: 1024 byte
RAM: 3584 byte
Instruction buffer: 1024 byte
Color: 65K (65536) colors
Resolution:320×240 pixel
Adjustable Brightness:0~180 nit, the interval of adjustment is 1%
Specification
Touch type: Resistive
Backlight: LED
Backlight lifetime (Average): >30,000 Hour
Recommended power supply: 5V 500mA DC
Package Included:
1 X 2.4 " HMI LCD Display Module With Touch
1 X Power Supply Test Board
1 X 4-Pin Grove Cable
Digital I/O Pins:

8

Flash Memory:

16MB

SRAM:

3584 Byte

EEPROM:

1024

Display tips:

Resistive Touch Panel

Resolution:

320*240

Controller IC:

ARM7 48MHz

Size:

2.4"
5 other products in the same category: