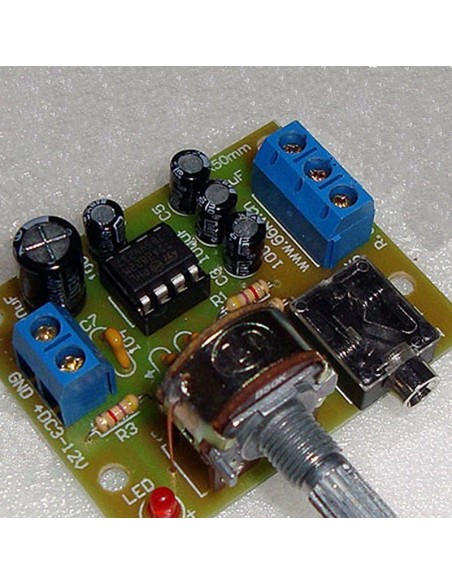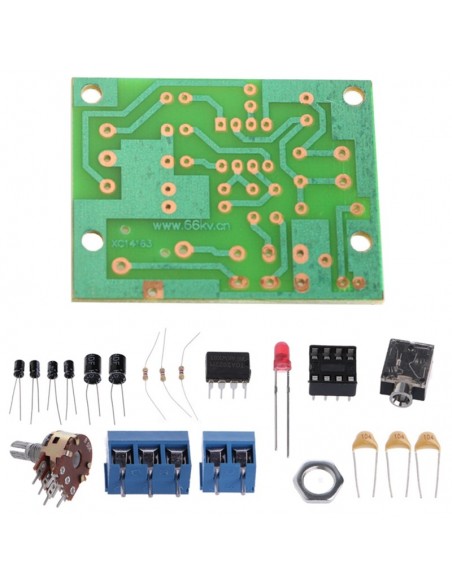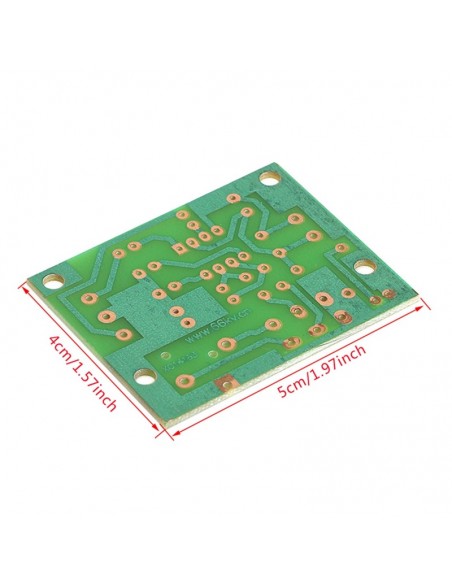 TDA2822M Dual Channel Amplifier
Stereo amplifier TDA2822M
Features:
This kit is consisting of integrated circuit tda2822m as the center of the double channel power amplifier, with distortion and peripheral components, simple assembly, operating voltage range wide characteristics, very suitable for radio enthusiasts and audio enthusiasts homemade, student assembly, is a typical work teaching kits.
Circuit X1 is audio input, the is quality 3.5mm stereo audio jack; X2 is a dual channel audio output end, external two loudspeakers or loudspeaker; X3 is a DC power supply input terminal, the suite by DC 3-12V power supply, if the AC power supply external rectifier circuit, the RP is volume adjustment potentiometer, in order to reduce interference and potentiometer housing need grounding, input coupling capacitor (C1, C2), C5, C6) is an output coupling capacitor, C3, C4) is negative feedback capacitance.
Signal process: the audio signal from the X1 input, the volume potentiometer RP by C1 (C2) coupled into the IC 7 (6) feet, amplified by the integrated circuit from 1 (3) pin output, the output coupling capacitor C5 (C6) to reach X2.
Specifications:
Supply voltage: DC 3V-12V (recommended 9V)
Output power:1W+1W (1KHz, 8, 9V, 10% total distortion)
Static current:less than 9mA (Vcc=3V)
Harmonic distortion: 0.2% (1kHz)
Closed loop gain:39dB (typical)
Output impedance:4 to 32
PCB board size:5* 4cm
6 other products in the same category: